With Check Image Archive, you can view and print an image of a posted check or EFT from the Payables Payment Zoom window, accessed from the Mekorma Audit Log. For instructions on how to disable or auto-display the check preview, see this page.
The Check Image Archive uses the format specified in the Copy Stub field of the Mekorma MICR Check Printing screen at the time the check was printed. If no format was specified in the Copy Stub field, the format in the Check Stub field will be used.
Payables check images follow the rules of Mekorma MICR check copies and do not display the MICR Line, Signatures, or Signature Lines. They also contain the word VOID.
Open the Mekorma Audit Log.
Select the appropriate batch, using the filters as needed.
Click on the Number of Checks link.
Select the check or

EFT

payment you would like to view, and click on the Payment Number link.
If you have already set up your System Options to Auto Display Check Image Preview, the archived document will automatically open to the right. Otherwise, you can open the Additional drop-down menu and choose Show Inquiry Check Preview. This will display the check or

EFT

remittance.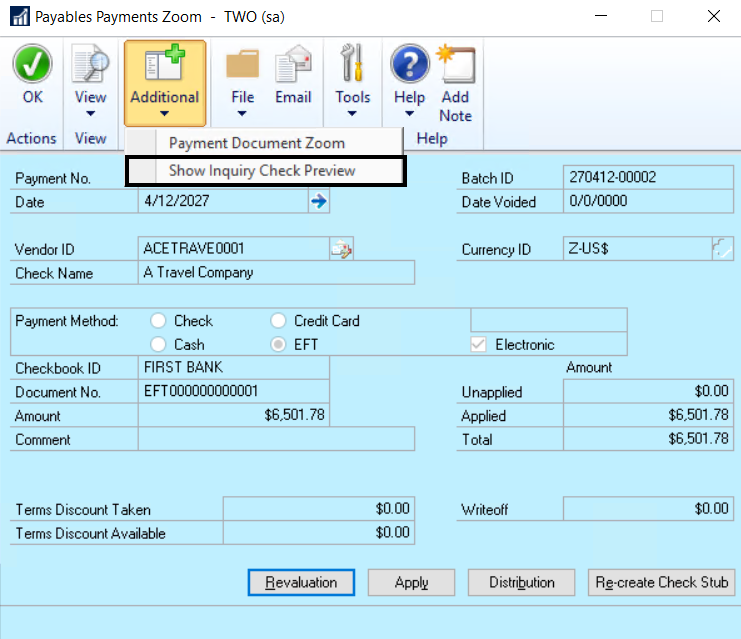 Last modified:
2019/11/13
Feedback
Thanks for your feedback.